Posts for: March, 2018
By Roula Giannos, DMD
March 28, 2018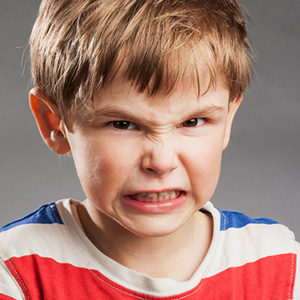 When you're first startled awake in the middle of the night by a loud, gritting sound emanating from your child's room, you may have two questions: how can such a loud racket not be harmful to their teeth? And, how can they sleep through it?
While it sounds earth-shattering, teeth grinding (medically known as bruxism) is a common habit among children. It involves an involuntary grinding, clenching or rubbing of the teeth together, either during the day or during night sleep.
While certain medications or conditions could be factors, it's believed most teeth grinding arises from the immaturity of the part of the neuromuscular system that controls chewing. It's believed to trigger a night episode as the child moves from deeper to lighter stages of sleep toward waking. Older children and adults typically handle these sudden shifts without incident, but a young child's under-developed chewing response may react with grinding.
If a child's teeth are normal and healthy, teeth-grinding typically won't create any lasting damage. But because grinding does generate pressures greater than the teeth normally encounter, it can be harmful to decayed teeth or those with enamel erosion due to high acid from consumption of sports and soda drinks. And it's also a cause for concern if the habit continues into later childhood or adolescence.
To avoid these problems, it's best to keep your child's teeth as healthy as possible by practicing daily brushing and flossing, and regularly seeing a dentist for cleanings, treatments and preventive measures like topical fluoride or sealants. And be sure to limit sugar and acidic foods and drinks in their diet to protect against decay and erosion.
You can also take steps to minimize teeth grinding and its effects. Consult with your physician about any medications they're taking that might contribute to the habit. If there are psychological issues at play, seek therapy to help your child better manage their stress. Your dentist can also fashion a custom night guard worn while they sleep that will prevent their teeth from making solid contact during grinding episodes.
Most importantly, let your dentist know if your child grinds their teeth. Keeping an eye on this potentially harmful habit will help lead to appropriate actions when the time comes.
If you would like more information on teeth grinding, please contact us or schedule an appointment for a consultation. You can also learn more about this topic by reading the Dear Doctor magazine article "When Children Grind Their Teeth: Is the Habit of 'Bruxism' Harmful?"
By Roula Giannos, DMD
March 13, 2018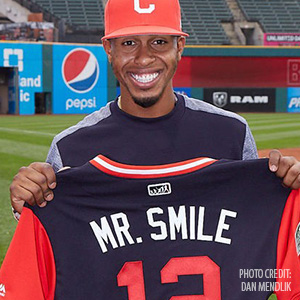 At the first-ever Players Weekend in August 2017, Major League Baseball players wore jerseys with their nicknames on the back. One player — Cleveland Indians shortstop, Francisco Lindor — picked the perfect moniker to express his cheerful, fun-loving nature: "Mr. Smile." And Lindor gave fans plenty to smile about when he belted a 2-run homer into the stands while wearing his new jersey!
Lindor has explained that he believes smiling is an important part of connecting with fans and teammates alike: "I've never been a fan of the guy that makes a great play and then acts like he's done it 10,000 times — smile, man! We've got to enjoy the game."
We think Lindor is right: Smiling is a great way to generate good will. And it feels great too… as long as you have a smile that's healthy, and that looks as good as you want it to. But what if you don't? Here are some things we can do at the dental office to help you enjoy smiling again:
Routine Professional Cleanings & Exams. This is a great place to start on the road toward a healthy, beautiful smile. Even if you are conscientious about brushing and flossing at home, you won't be able to remove all of the disease-causing dental plaque that can hide beneath the gum line, especially if it has hardened into tartar, but we can do it easily in the office. Then, after a thorough dental exam, we can identify any problems that may be affecting your ability to smile freely, such as tooth decay, gum disease, or cosmetic dental issues.
Cosmetic Dental Treatments. If your oral health is good but your smile is not as bright as you'd like it to be, we can discuss a number of cosmetic dental treatments that can help. These range from conservative procedures such as professional teeth whitening and bonding to more dramatic procedures like porcelain veneers or crowns.
Tooth Replacement. Many people hide their smiles because they are embarrassed by a gap from a missing tooth. That's a shame, because there are several excellent tooth-replacement options in a variety of price ranges. These include partial and full dentures, bridgework, and dental implants. So don't let a missing tooth stop you from being Mr. (or Ms.) Smile!
If you'd like more information about oral health or cosmetic dentistry, please contact us or schedule an appointment for a consultation. You can also learn more by reading the Dear Doctor magazine articles "Beautiful Smiles by Design" and "The Impact of a Smile Makeover."